CAFÉS NEAR TINKTANK COWORKING
You will find numerous cafes in the immediate vicinity of TinkTank coworking. These are what Croats call "kvartovski kafići" (transl. neighborhood cafés), with a limited selection of beverages and a basic setup. While this is all part of the local experience, we decided not to give you an extensive list of those cafés as you will easily find them yourself. Instead, here are two of our personal favorites when it comes to coffee in the area.
UTOPIA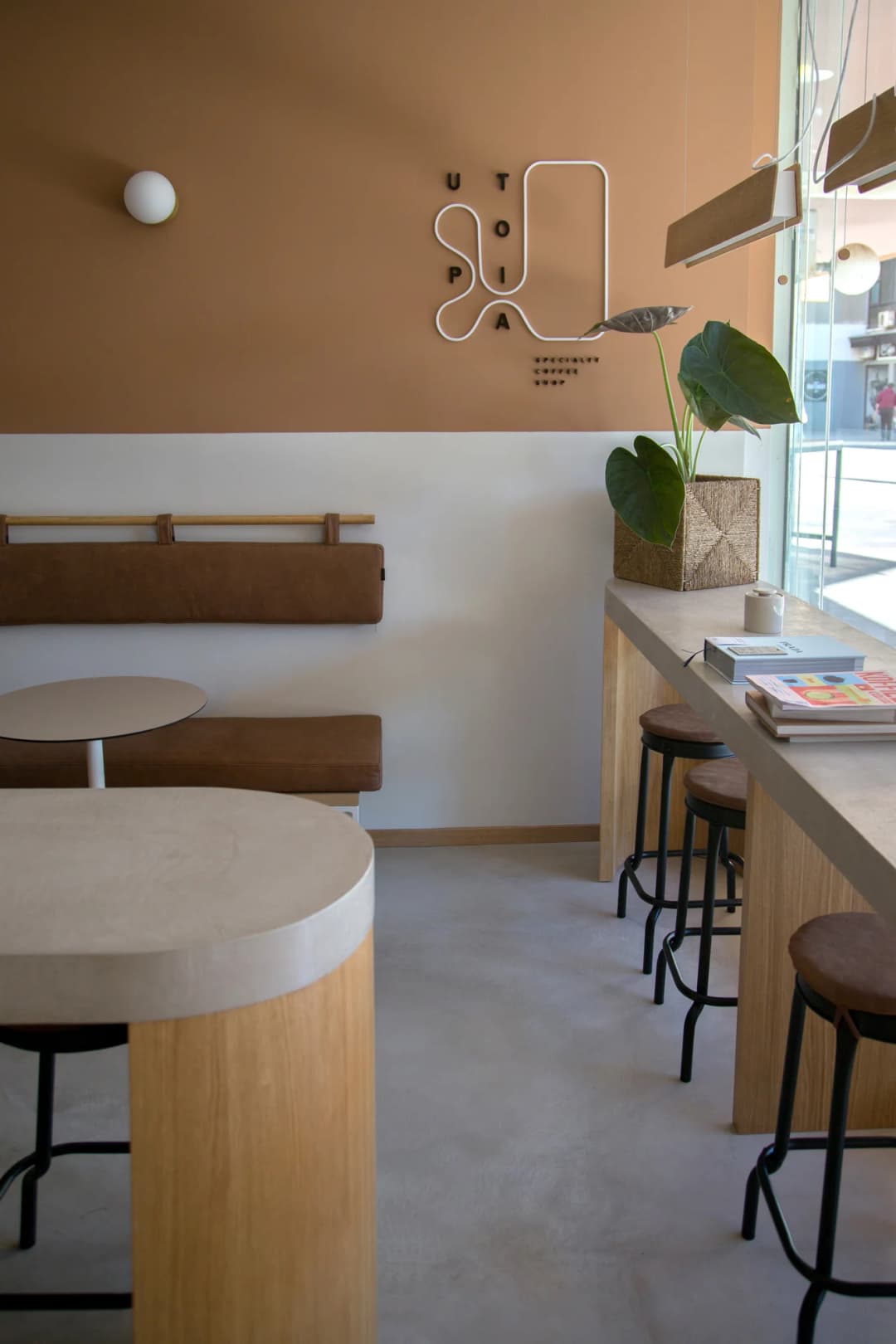 A comfortable 9-minute walk will take you to Utopia, our personal favorite when it comes to specialty coffee. In this pleasant and cozy café you will find not only many types of tasty coffee, but also matcha, teas, lemonade, cookies, and croissants. Beautiful and minimalist, the interior of this cafe itself is worth the visit!
TINEL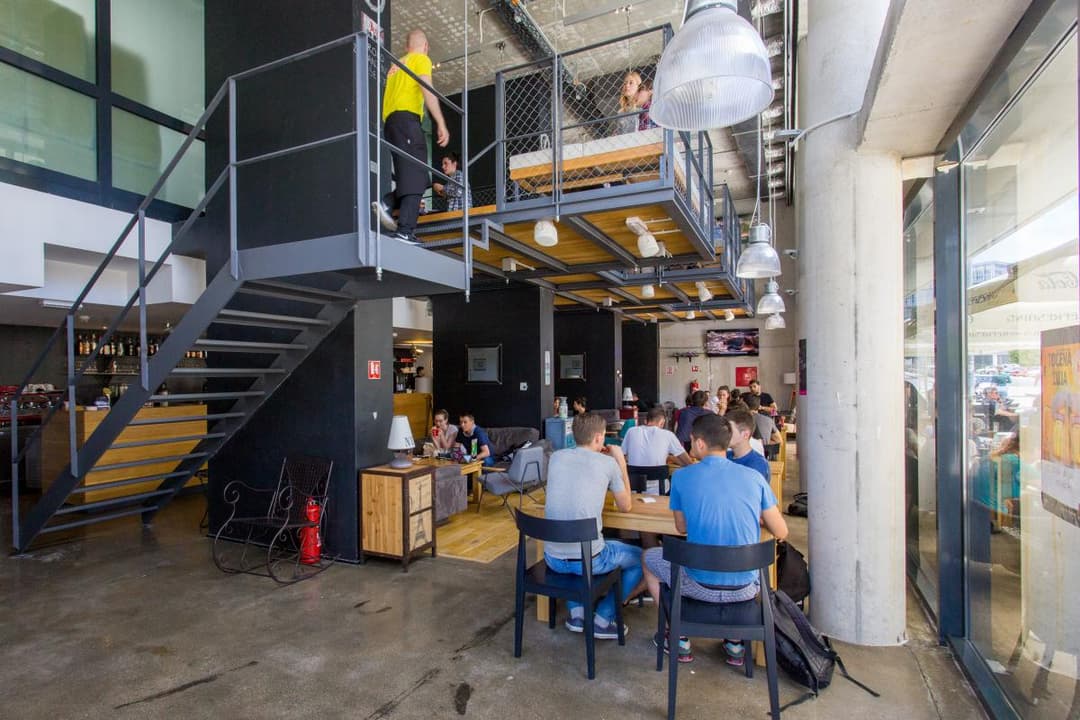 This cozy cafe with an industrial-style interior and plenty of outdoor seating is a perfect option if you are in need of a quick break from your work. To get there, when you exit TinkTank turn right, go down 3 flights of stairs and then turn left. Don't follow Google Maps because there is a much shorter way to get to the cafe.
FOOD NEAR TINKTANK COWORKING
BOBIS BAKERY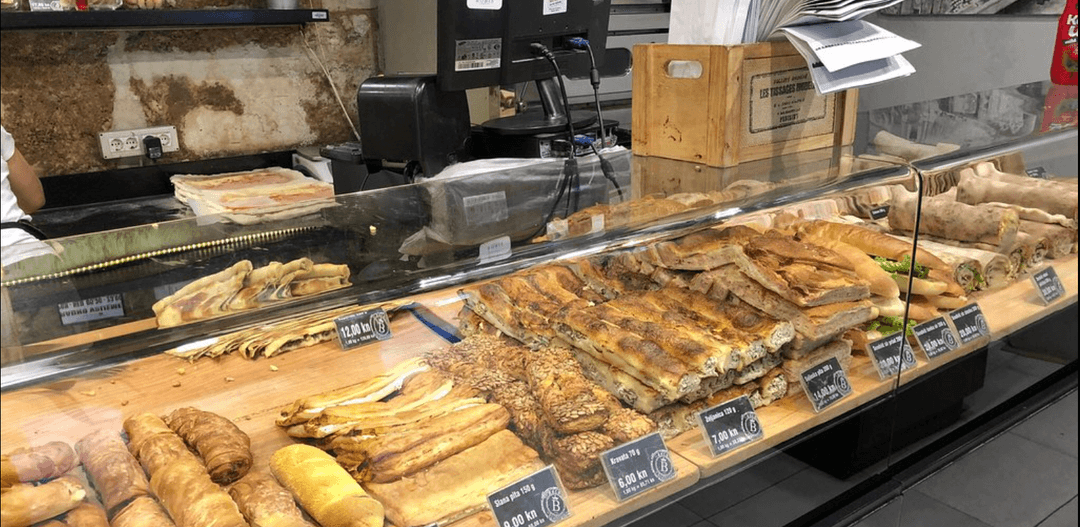 Type: bakery & and pastry shop

Distance: 1 min walk

Menu: savory and sweet baked goods, sandwiches, cakes, pizza, bread

Price: 0.50-4 euros
Bobis Bakery located right next to Tommy grocery store has plenty of delicious baked goods for a very affordable price. If you are looking for local favorites, ask for burek. Pro tip: from 10:25 to 11:00 local school kids line up in front of the bakery during their break, so it's best to avoid the bakery in that period.
RESTORAN KAMPUS (AKA MENZA)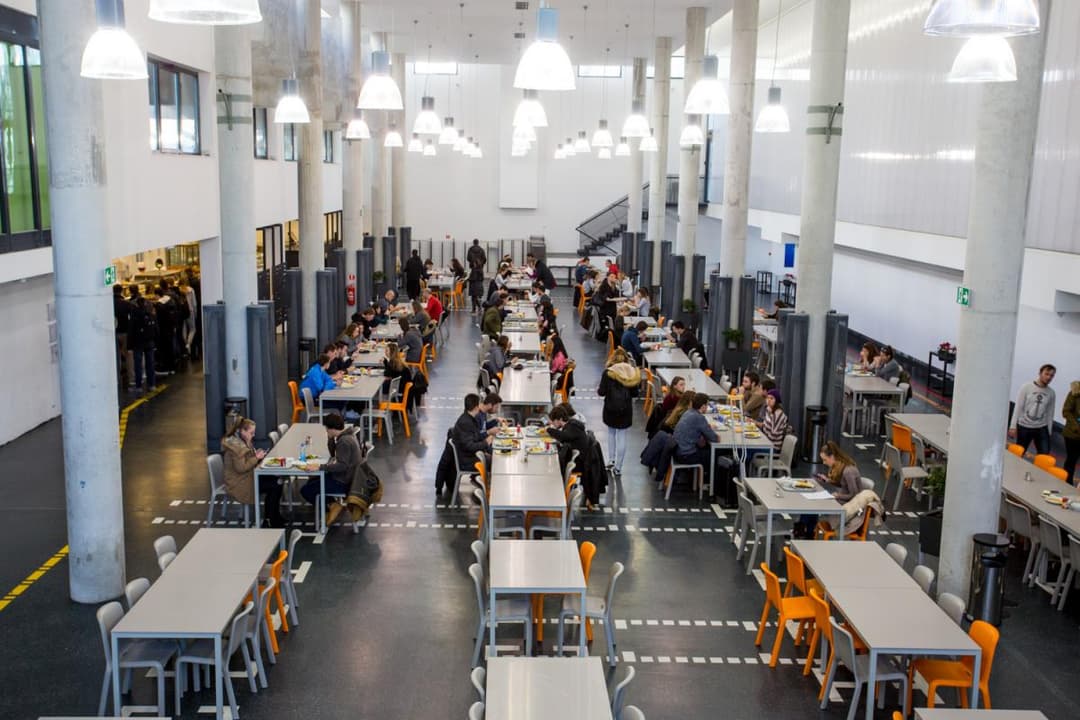 Type: canteen

Distance: 4 min walk

Menu: soups, pasta, meat, vegetables, desserts, etc.

Price: 3-7 euros for a whole 4 course menu
If you are looking for a proper home-style meal for a very affordable price, this canteen has many options. You can choose between set menus (both meat and vegetarian options) which include a 4-course meal for only about 6-7 euros. Students wait in line (their meals are subsidized and thus even cheaper), but you should go to the tables where you can get table service. To get to Restoran Kampus, do not follow Google instructions as it will give you a much longer route. Instead, turn right when you exit TinkTank, go down several flights of stairs and turn left as indicated on the map:
CALYPSO
Type: pizzeria

Distance: 5 min

Menu: Italian and Croatian dishes

Price: 7-15 euros (mid-range)
If you are craving pizza, Calypso is the perfect place for you. You can choose from several pizza styles and sizes. You will also find some traditional Croatian a la carte dishes and street food there, too. To walk to Calypso it will only take you 5 minutes, but follow our guidelines below as Google Maps offers only the longer route.
MEET & EAT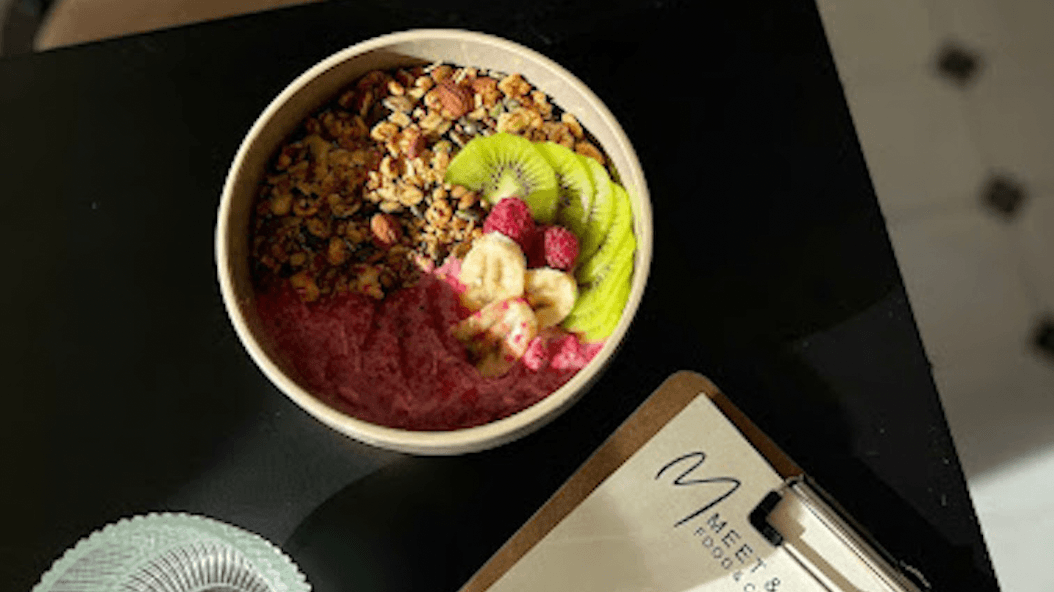 Type: healthy food

Distance: 7 min

Menu: vegetarian, brunch, soups, salads, healthy pasta & pizza, smoothies

Price: 4-8 euros (mid-range)
If you are searching for a healthy breakfast or lunch, Meet & Eat has plenty of delicious vegetarian and some non-vegetarian options to choose from. Both indoor and outdoor seating are available. To get there faster, follow the map guidelines below (by foot).
PIZZA PLACE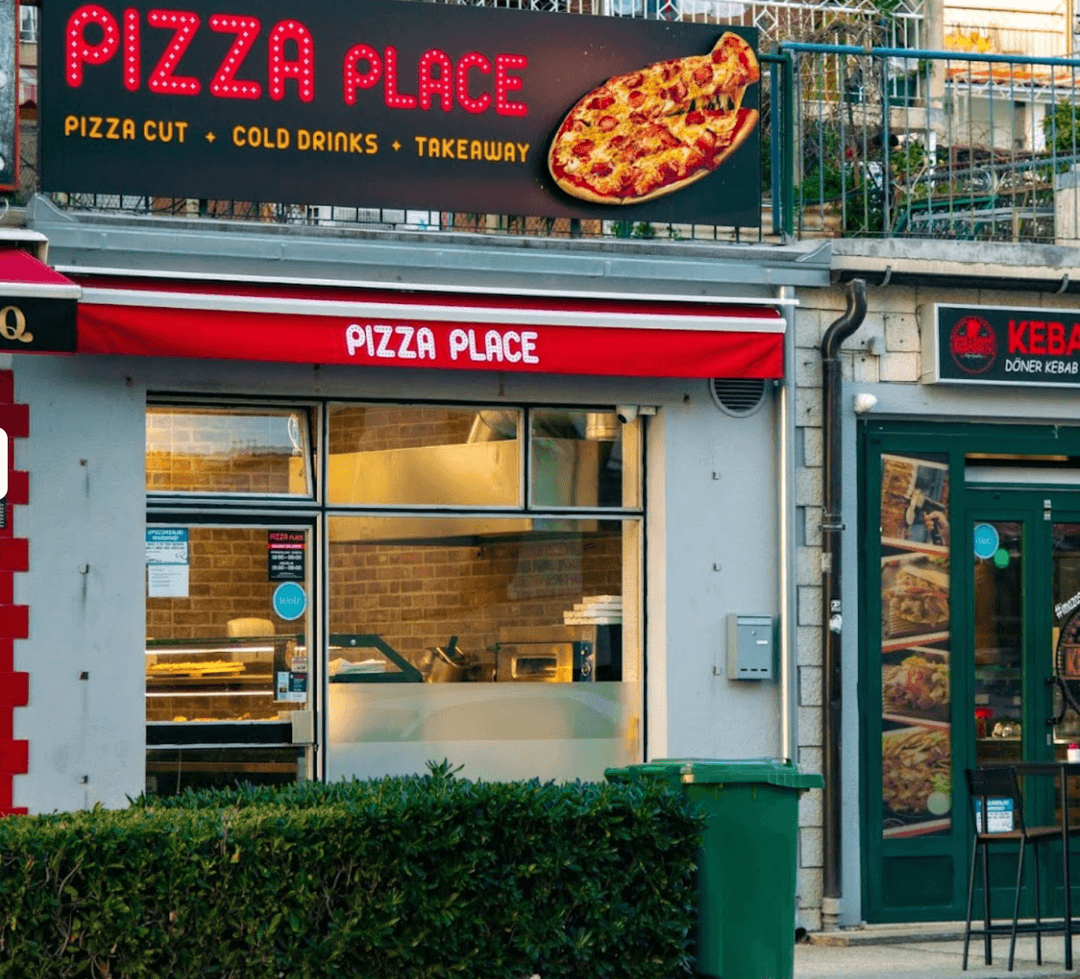 If you are searching for a great pizza-to-go option, Pizza Place is the place to be. Several types of tasty pizza, just 2 min away from TinkTank coworking. (Right next to Kebabsito)
KEBABSITO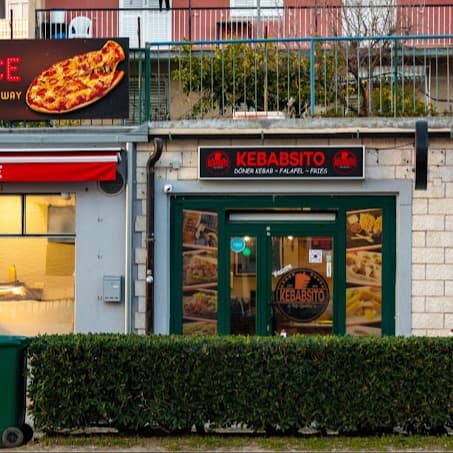 Type: fast food

Distance: 2 min

Menu: kebab, falafel

Price: 5.50 - 9 euros
The name is self-explanatory. Kebabsito is known as one of the best kebab places in town. Both dine-in and takeaway are possible.
BISER ORIJENTA
Type: Asian food restaurant

Distance: 5 min

Menu: stir-fried dishes, sushi, dumplings, soups, noodles, spring rolls

Price: 4-15 euros
Biser orijenta was the first Asian food restaurant in Split. While the interior hasn't changed much since, this is not why people come here for. Biser orijenta serves amazing traditional Asian dishes with big portions for only a fraction of the price of other Asian restaurants in the city. Menu options are limitless and you will easily find a filling meal here for as low as 5 or 6 euros.
MAKEDONSKA KUĆA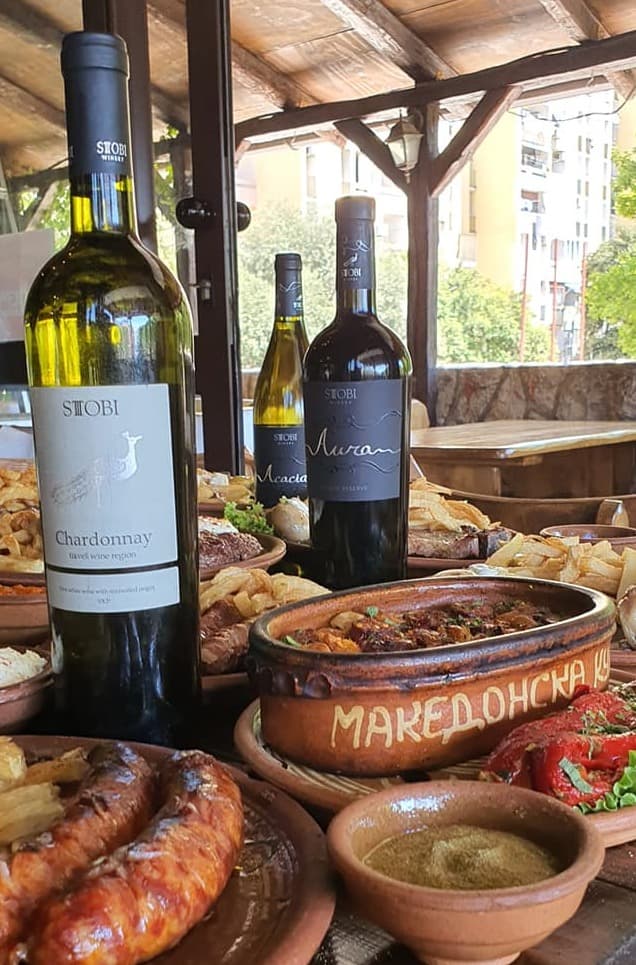 Type: Macedonian restaurant

Distance: 6 min

Menu: grilled meat, fries, Macedonian dishes

Price: 7-13 euros
If you are a meat lover and are in search of decent food portions for an affordable price, check out Makedonska kuća. The majority of the dishes are different types of grilled meats and meat platters combined with fries and veggies. You can also try sarma (sauerkraut rolls) which is a traditional dish in these areas, or gravče na tavče, a traditional Macedonian baked beans dish.